Student RiskAssess
Free Trial
If you would like a 2-week free trial of Student RiskAssess, please email your school name to
Student RiskAssess is a version of RiskAssess, optimized for student use, to make science experiments safer. RiskAssess users will find Student RiskAssess very easy to use in the classroom. Student RiskAssess has a different login and password, so that students do not have access to risk assessments created in RiskAssess by teachers and laboratory technicians. More than 400 schools are now using Student RiskAssess.
Meet learning requirements of
new Australian Curriculum
International Baccalaureate (IB)
Extended Investigations (Student-initiated)
The new Australian Curriculum is being progressively implemented throughout Australia. It requires students to take an increasingly active role in considering safety and risks in investigations. In Years 11 and 12, students are required to carry out risk assessments of experiments that they design themselves (Inquiry Skill). Read more about the requirements of the new Australian Curriculum for Science. Schools teaching the IB or extended investigations already have the same requirement.
Easy classroom use
Student RiskAssess can be used in the classroom on laptops, iPads, tablets and on smart phones (iPhones, Android, etc). Students can access Student RiskAssess from home or from any location with an internet connection. Unlimited numbers of students can access Student RiskAssess at the same time.
PIN-protection allows student assessment
Student RiskAssess includes an optional PIN feature on each risk assessment. This allows a student to create a risk assessment that is PIN-protected and can only be viewed by staff and that particular student. Thus, teachers can use Student RiskAssess for student evaluation. See the Student RiskAssess user guide for more details.
Simple to use
Student RiskAssess is user-friendly and includes online help screens. A User Guide for Student RiskAssess contains simple explanations and tips. Over 70,000 risk assessments have been performed in Student RiskAssess.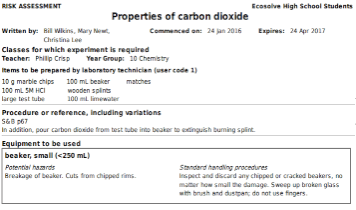 Special features for student use
Students must agree to conduct each experiment safely in accordance with school rules and teacher instructions
Student name(s) are recorded for individual or group work
Student(s) assess risks on the basis of likelihood and consequences
Student(s) assess inherent risk and record control measures
Teachers electronically sign that they have checked students' risk assessments and that appropriate control measures are in place
Separate laboratory scheduling page for student experiments to help laboratory technicians.
Student RiskAssess continues to have all the facilities of RiskAssess:
Database information on chemicals, equipment and living things
GHS data on 1000 chemicals and their solutions
Electronic templates that follow the Australian ISO Standard on Risk Management
Archiving of electronic risk assessments for legal purposes
Download the Student RiskAssess brochure for more details.
Subscribing
The cost of a year's subscription to Student RiskAssess is $250 (+GST) per school campus. This is in addition to the cost of a subscription to staff RiskAssess. A subscription lasts 365 days from the date that payment is received and includes all upgrades during that period.